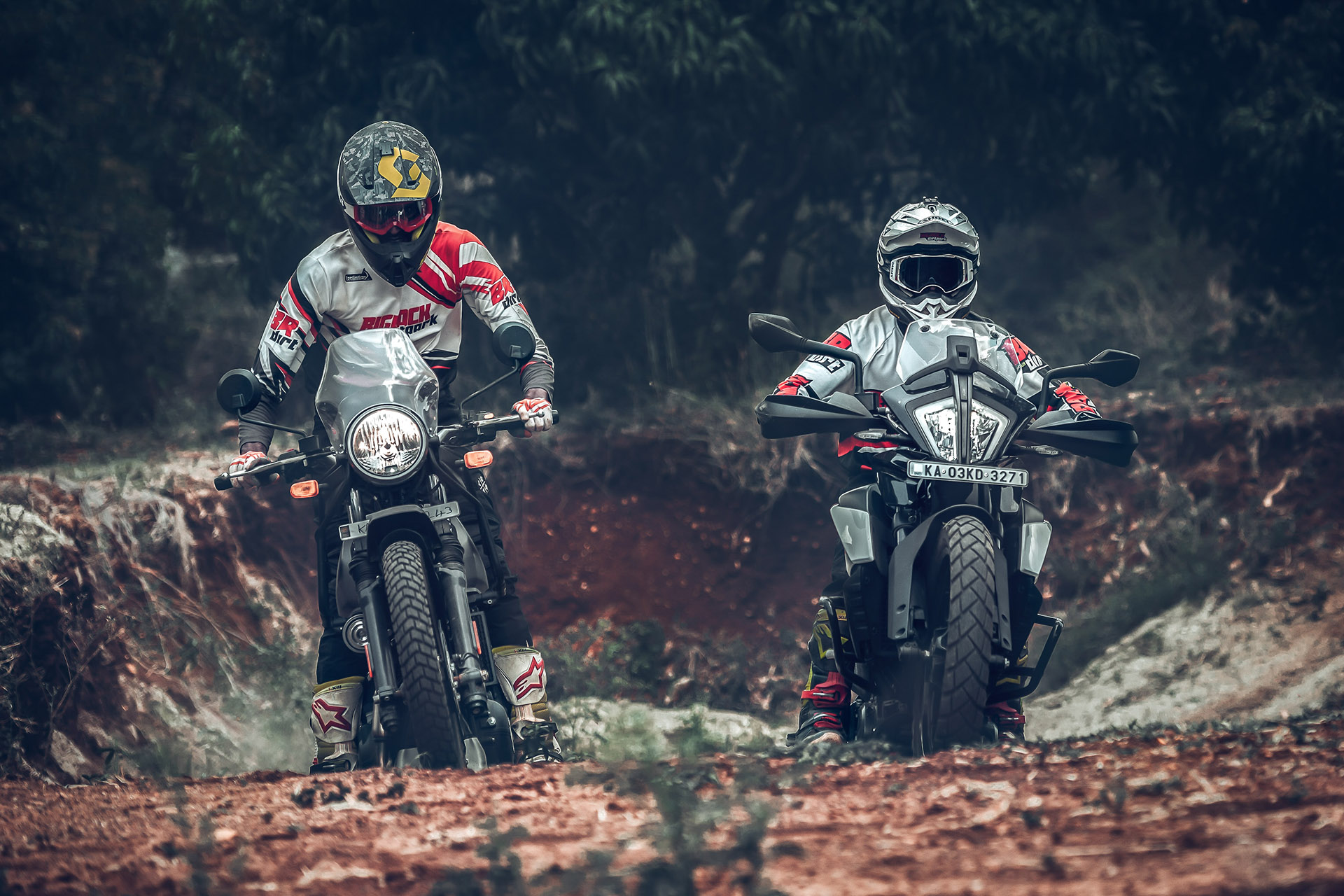 Super stoked to announce The Off-Road School, at Bigrock Dirtpark, India's biggest & leading off-road training facility for motorcyclists.
Designed for those who would like to be more familiar with the world of dirt, gravel & mud, this Level 1 program will introduce the basic principles of Off-Road riding through a series of drills, watched & open sessions and will help in understanding more about the capabilities of your Adventure Motorcycle. Detailed interactive sessions with experienced instructors, will make you more confident in exploring beyond where the paved roads end!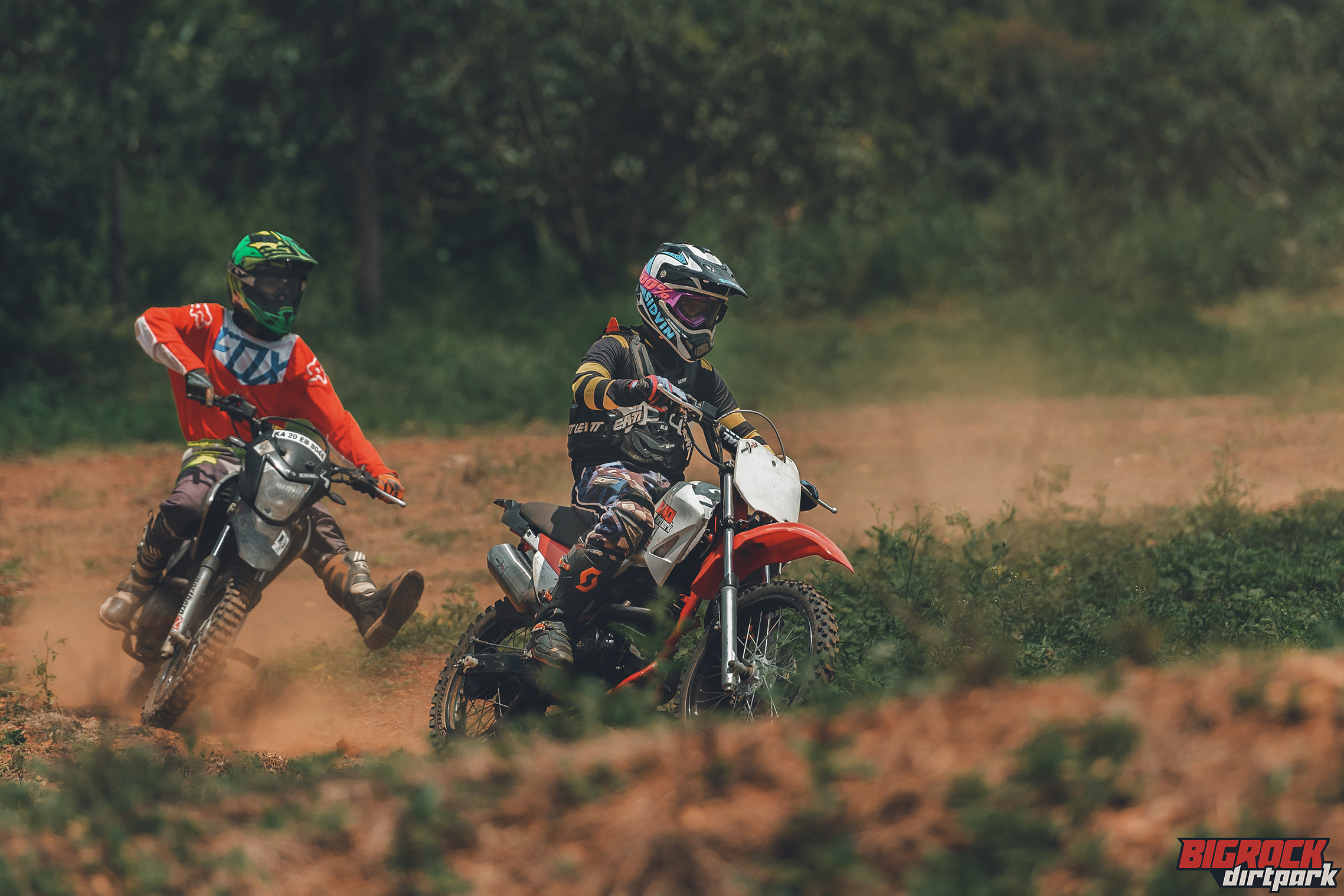 BigRock Dirt Park is India's biggest & leading off-road training facility for Motorcyclists. We train riders in all disciplines of off-roading such as Motocross, Adventure riding, Rally Raid, Flat Tracking and lot more.
CURRICULUM
The curriculum includes extensive theory and on-track drills that have been tried and tested for over a decade, covering concepts that are essential for more aware & confident off-road riding. Across various Levels that we offer, the courses are designed to make the rider progressively more confident on various surfaces, smoother, faster and eventually ready to explore the great expanse beyond the paved road . The concepts are further committed to by on-track drills that focus on each, throughout the training.
INSTRUCTORS
Our instructors are well qualified, articulate and have on an average of 25000km of track time under their belts. They have trained at various track schools, have competed in a range of track races, participated in off-road events and continue to do so to constantly enhance their skills. The instructor to student ratio is maintained at 1:5. This allows us to give students personal attention, allowing them to improve their riding skills in a very effective manner. For further information please follow the link below
TRACK TIME & SESSIONS
Following class-rooms, there will be 6-8 riding sessions each of 20-25 minutes, where the theory will be put into practice. In the afternoon there will be a few open track riding sessions, for you to bring together all that was learnt during the day, with the instructors at hand for further clarification or help!
FEES
The fee for this Level 1 Course is Rs. 12500/- inclusive of all taxes.
CATERING & REFRESHMENTS
There will be easy & healthy breakfast & lunch, with access to unlimited water & rehydrating drinks. We believe in keeping the body well nourished and adequately hydrated to cope with the rigorousness of the track sessions.
SAFETY
Safety is serious business! The riders are not allowed to skip any safety measures when it comes to riding off-road, in terms of helmets, boots, gloves & armours. Helmet (with ECE/DOT/SNELL/ISI certification) is a must, so are motorcycle gloves, boots with ankle protection & impact protection for shoulder, elbows, back & the knees. You're advised to have either body armours (covering shoulder, elbows, spine & the knees) or protective textile jackets with CE certified armours in place.
The safety measures taken by us are also top-notch with a fully equipped ambulance on standby, staffed with a paramedic
MOTORCYCLE TRANSPORT
BigRock Dirt Park, Kolar is 120 odd Kms from Bangalore & riders are expected to make their own arrangement for transporting their motorcycles, if they are not riding over to the venue.
FEEDBACK & DISCUSSIONS
Students are always welcome to talk to the instructors to help better understand the feedback they have received during the day, on their riding skills on the track. In an informal setting, there is always room to discuss techniques, tyres, bikes and various other things to better understand and learn all things motorbikes.
STAY & ACCOMMODATION COST
There's limited accommodation available at the BigRock Dirt Park at an extra cost, should anyone need it. Large tents are available, with easy access to clean (common) toilets at Rs. 2500/- per person per night (on twin sharing basis).
MOTORCYCLE RENTAL AVAILABILITY / APPROX COSTS
Motorcycle rental is available upon request at an additional cost. The number of motorcycles are limited, so should you need one, book one at the earliest.
Motorcycle Rental Fees
Honda CRF: Rs. 4000/-
Royal Enfield Himalayan / Hero Xpulse: Rs. 3000/-
To book please call Arjun Varma +91 9148327116
MOTORCYCLE GEAR RENTAL OPTIONS & COSTS
Motorcycle riding gear (chest, knee, arm-guards and riding boots) can be provided at extra cost upon request. Again, these are available in limited quantities in each size, so should you need them, book early on.
Gear Rental Fees
Chest-protector, Knee-protector & Arm-protector: Rs. 1000/-
Off-Road / MX Boots: Rs. 1000/-
To book please call Arjun Varma +91 9148327116
REGISTRATION & ADDITIONAL INFORMATION
Arjun Varma +91 9148327116
Samrat Som +91 9886444359